Luxury smartphones and accessories brand Caviar launched a new exclusive service: a customization studio will create an individual design of a smartphone with an authentic autograph of your idol. The brand will assume all costs and challenges in finding the signature of a famous person.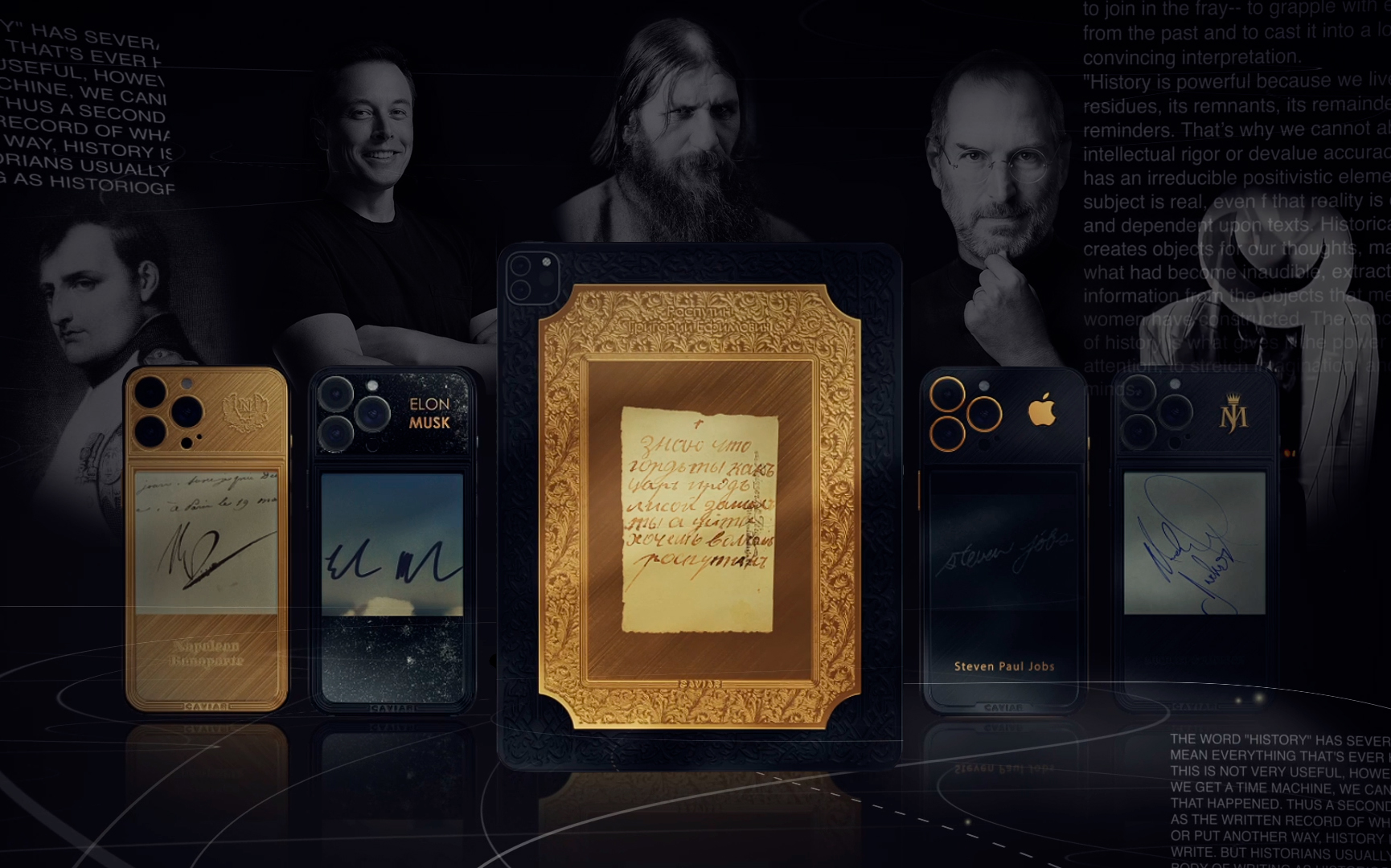 At the end of February 2022, Caviar presented a new service in the customization studio. The option to create an individual design of a smartphone or accessory with Caviar was available before, but now the Russian brand offers a more exclusive service: you can order a gadget with a real autograph of your idol.
Visit caviar.global today, check out the exclusive designs of the Autograph collection and get one for yourself. Each modification is created in a single copy.
The flagship model of the collection is the most powerful Apple tablet, a modified iPad Pro with an M1 processor and a 12.9-inch display with a personal message from Grigory Rasputin. A note, personally created by the "holy old man", is integrated into the body of the gadget. It reads: «знаю что гордъ ты какъ царь иродъ лисой зашелъ ты а уйти хочешь волкомъ роспутинъ» ("I know that you are as proud as Tsar Herod, you came in like a fox, and you want to leave like a wolf, Rasputin.)" The message is built into a frame made of jewelry alloy, covered with the gold of the highest standard, and protected by shock-resistant glass. The back cover of the tablet is decorated with relief patterns, echoing the interiors of the Yusupov Palace, where the life of Grigory Rasputin tragically ended. The cost of the model is US$ 91,100.
Another exclusive model is dedicated to the French Emperor Napoleon Bonaparte. The signature from the personal letter of the ruler is integrated into the body of the iPhone 13 Pro. The design of the smartphone is to match the emperor himself: embossed patterns and precious materials. The body, for instance, is made using 24-carat yellow gold. The cost is US$75,550.
The collection also includes autographs of Michael Jackson for US$25,000, Elon Musk for US$27,250, and Steve Jobs for US$22,000. Their personal signatures are embedded into a modified iPhone 13 Pro.
The Autograph collection is just the start of a grandiose series of modifications. People from all over the world now have an opportunity to become the owners of the only accessory in the world with a personal autograph of a famous person. Caviar is ready to make a model with autographs of Muhammad Ali, Cristiano Ronaldo, Henry Ford, Leo Tolstoy, Virgil Abloh, Kobe Bryant, Winston Churchill, Vladimir Lenin and many others.